This article was originally published on TopDrawerSoccer.com and re-purposed for AmplifiedSoccerAthlete.com with permission. Author: Will Parchman
Payton McNatt, a junior forward from Houston High School (Germantown, Tennessee), and Grace Kitts, a junior midfielder from St. Teresa's Academy (Kansas City, Missouri), are the TopDrawerSoccer.com High School Players of the Week.
Houston was an indomitable freight train last week, and much of their success - the team won the Class AAA state title - was down to Payton McNatt's ability to finish when he got opportunities. In Houston's 3-0 state quarterfinal win over Arlington, McNatt scored the team's second goal and provided an assist on the third. In the semis against Ravenwood, McNatt contributed the first goal and assisted on the last in a rousing 5-1 victory. Finally, in the state title game, McNatt finished the team's second goal unassisted in an eventual 3-2 victory over former HS POTW winner Lucas Altman's Science Hill. Quite the way to polish off a season, with three goals and two assists in your team's final three matches of the season.
In this video junior forward, Payton McNatt #4 scores the first goal for his squad.
All season long, Kansas City powerhouse program St. Teresa's has conquered just about every opponent put in its path. Even as the postseason cranked up, the team hardly slowed down, and a 4-0 victory over William Chrisman in the Class 4, District 14 championship was just the next in a long line of victories. In the process, Grace Kitts enjoyed one of the best, most cohesive games of her career. The Missouri commit for 2016 managed to score a hat trick to send the Stars into Missouri's final 16 this postseason. St. Teresa's is a tidy 18-2-1 so far this season, and with Kitts firing on all cylinders it looks as though they could be a favorite to take home some hardware at the end of the playoffs.
Junior Grace Kitts (right), receives a pass from a teammate while teammate Paige Powell cuts to get open. Photo by Mary Hilliard
Other boys finalists include Cole Stinger (Langley High School, McLean, Virginia) and Andrew Conwell (Montgomery Bell Academy, Nashville, Tennessee). Other girls finalists include Gabrielle Lawlor (St. Joseph's Academy, St. Louis, Missouri) and Haley Mennes (McLean High School, McLean, Virginia).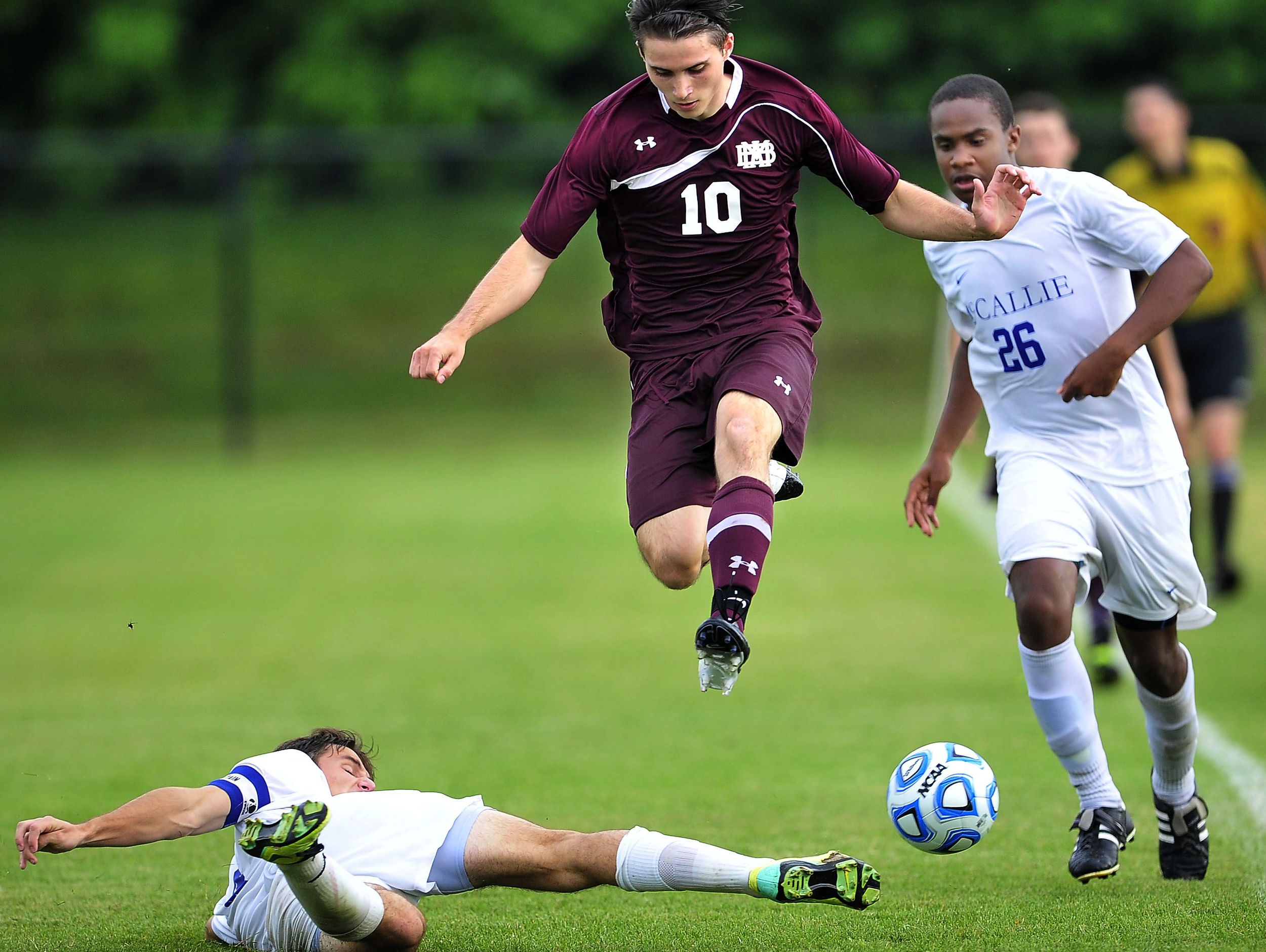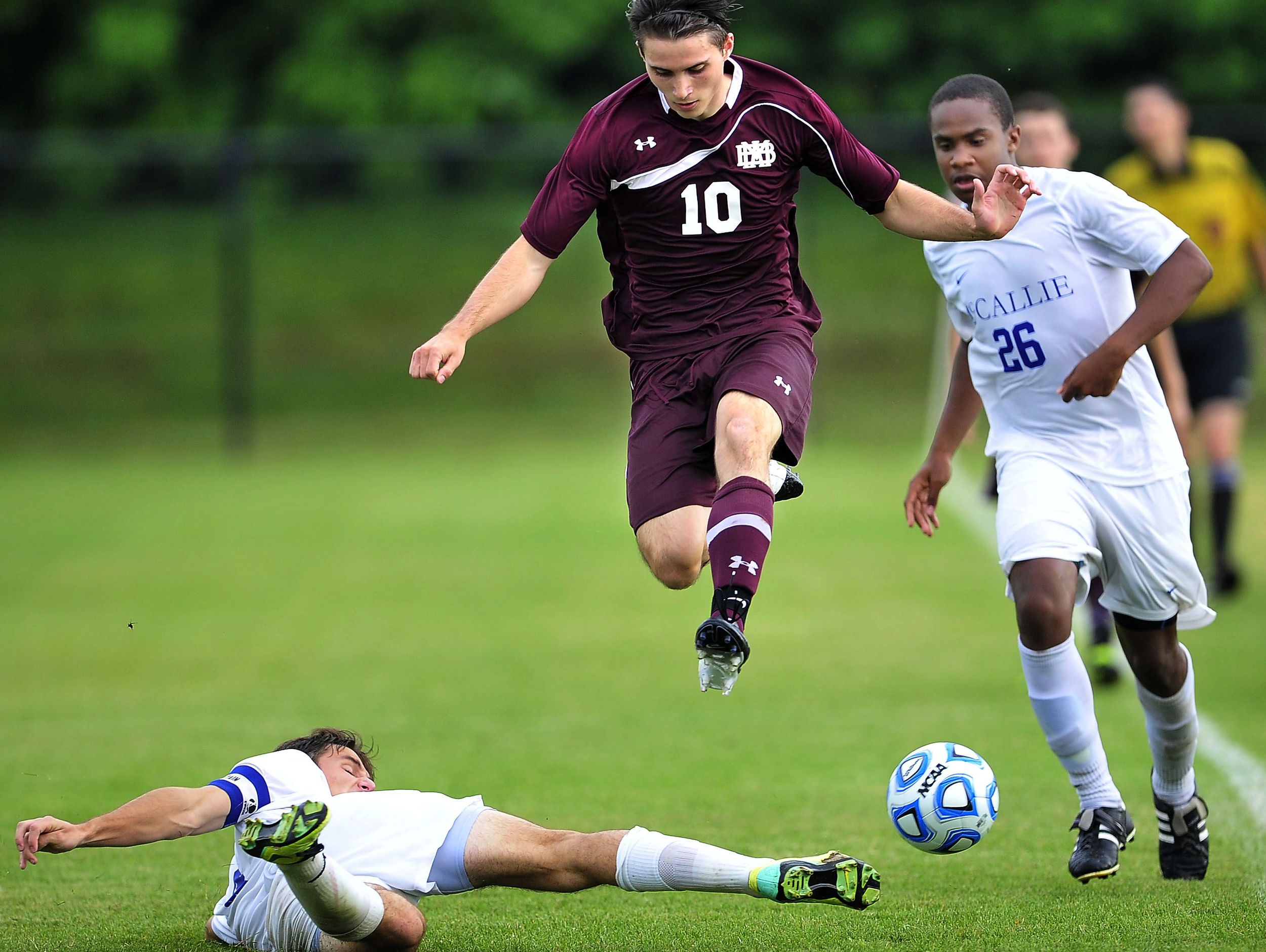 The TopDrawerSoccer.com High School Player of the Week honor is designed to highlight a selection of the nation's rising stars populating the high school ranks. Coaches are free to nominate a boys or girls player each week by emailing their submission to Will Parchman at wparchman@topdrawersoccer.com. Be sure to include the school, position, grade year and any relevant stats from the previous week. The selection process will take into account a slew of factors from contribution to team results to individual accolades. Honorees are announced each Wednesday.