This article was originally published on TopDrawerSoccer.com and re-purposed for AmplifiedSoccerAthlete.com with permission. Author: Will Parchman
Michele Bottari, a senior forward from J.L. Mann High School (Greenville, South Carolina), and Sarah Danielle Hoover, a senior midfielder from Union High School (Tulsa, Oklahoma), are the TopDrawerSoccer.com High School Players of the Week.
It was quite the week for Bottari, who was named South Carolina's boys Gatorade Player of the Year almost at the same time that he scored the title winner for his high school powerhouse J.L. Mann. Bottari won the Gatorade state honorific thanks to a 30-plus goal season and continual performances that defied convention. He authored his greatest story yet when the Clemson signee popped up with a goal in the 52nd minute of the South Carolina AAAA boys state championship. Bottari's tally was the game's only one, which pushed J.L. Mann to its 22nd win and its first state title in five years. In the fall, he's off to Clemson.
Beautiful sidestep on the goalkeeeper from Bottari.
The conclusion to Sarah Danielle Hoover's high school career couldn't have gone much more swimmingly. Hoover, who'd tasted ECNL glory in 2013 after her Tulsa club side won a national title, guided her Union team into the Oklahoma state title game with the firm but calm hand of a practiced pro. The Tulsa commit was Union's maestro all season, and she deftly pulled the strings in a tight championship tussle against Jenks. Ultimately, Hoover reprised the role she's played all season by coolly providing the game-clinching goals in both the state semifinals and the final against Jenks. In the finale, she scored the title-winner off a corner kick with less than four minutes to go in the second overtime period. Quite a way to polish a high school career.
Sarah Danielle Hoover Highlights.
Other boys finalists include Kobe Perez (Dalton High School, Dalton, Georgia) and Lucas Altman (Science Hill High School, Johnson City, Tennessee). Other girls finalists include Emily Littell (Loudoun County High School, Leesburg, Virginia) and Lauren Williams (Franklin High School, Elk Grove, California).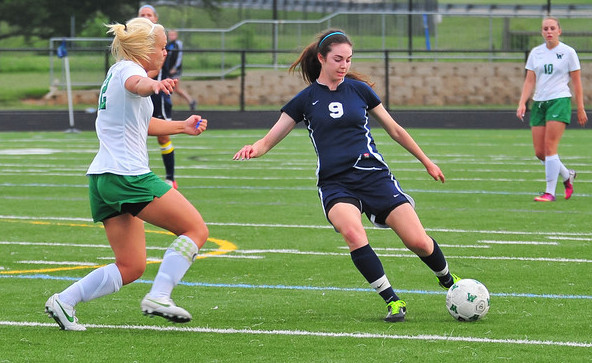 The TopDrawerSoccer.com High School Player of the Week honor is designed to highlight a selection of the nation's rising stars populating the high school ranks. Coaches are free to nominate a boys or girls player each week by emailing their submission to Will Parchman at wparchman@topdrawersoccer.com. Be sure to include the school, position, grade year and any relevant stats from the previous week. The selection process will take into account a slew of factors from contribution to team results to individual accolades. Honorees are announced each Wednesday.