Common Mistakes To Correct In The 11 v 11 And How To Fix Them Before They Start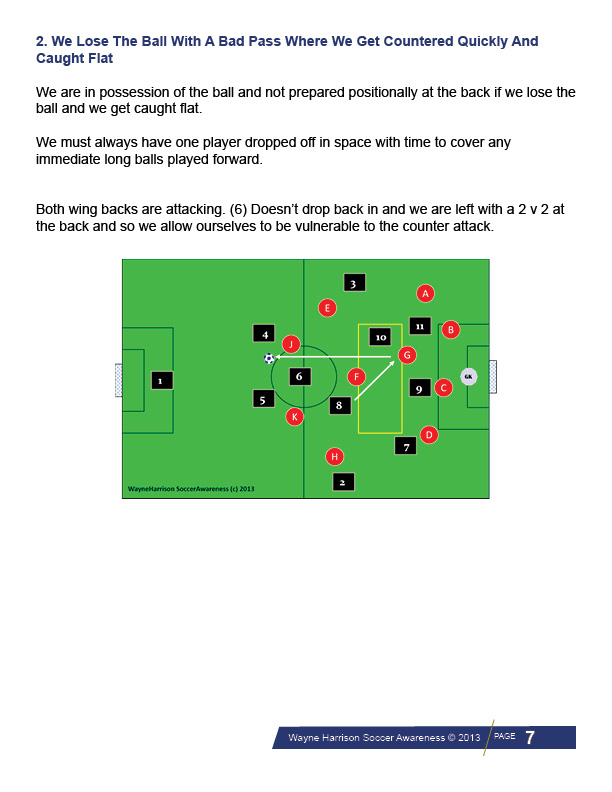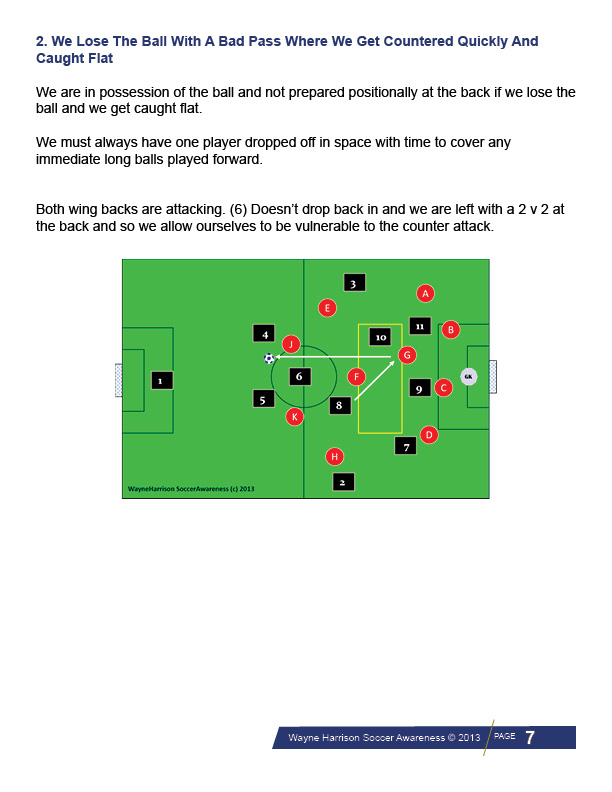 sale
Common Mistakes To Correct In The 11 v 11 And How To Fix Them Before They Start
Identifying and Solving Common Real Game Situation Problems in the Training Environment
This is a different way to look at the game, rather than highlighting what we need to do well, it shows what often goes wrong and how to fix it. These are many situations I have found happen in top level games. How many of these problems do YOU experience with your team?
98 pages outlining 31 different real game issues and how they can be fixed before they happen. Interactive table of contents links to each section.
Many of the defensive problems as you will see can EASILY be fixed just with good 1 on 1 or unit pressing. Also defensive tactical positioning is covered; as is improvements in our attacking play. A major improvement is needed though in COMMUNICATION at youth level to help fix all errors in most cases.
Contents
Attacking Shape Is Often Way Too Narrow
We Lose The Ball With A Bad Pass Where We Get Countered Quickly And Caught Flat
Not Sliding Across And Changing Who You Mark
Defensive Positioning To Fix In Defensive Team Shape
Not Pressing The Opponents Striker All The Way
Not Pressing The Ball When It Is Cleared Out Of The Penalty Box
Poor Positioning In And Around The 6 Yard Box From Crosses
Positioning At The Back When Losing The Ball
Wide Players Do Not Recover Leaving A 2 V 1 Against Our Fullbacks
We Defend Too Deep From Free Kicks
Not Closing The Wide Player Down
Allowing Opponent Midfield Players To Receive And Turn
Do We Drop Or Press Up From The Back?
Dropping Then Pressing
They Move The Ball Forward And Keep Possession; We Have To Press And Also Recover At The Same Time
We Don't Press Together As A Unit In The Attacking Third
Changing Shape To Counter The Opponents Who Are Playing A 4-3-3
Not Using Spatial Awareness Correctly "Off The Ball"
Players Need To Move Both For Themselves And For Teammates Also
How To Regain Possession In The Attacking Third?
Condensing And Recovery Runs By The Defending Team On Losing Possession
Attacking Play And Rotations And Movements Of Players
How To Create Third Man Runs In The Attacking Third
How To Position And Regain Possession From The Long Kick By Our Keeper
Opponents Midfield Players Coming Short To Receive And Turn
Pressure In The Center Of Midfield When They Have The Ball Facing Forward
Off The Shoulder Movement And How To Combat It
The Back 4: Defensive Positioning: A Reason Why It Is The Center Back And Not The Full Back As The Last And Deepest Player
Anticipation In Defending
Crossing Early From Wide Positions Behind The Defense
Running Offside