Developing Players with Rondos Using the Soccer Awareness Philosophy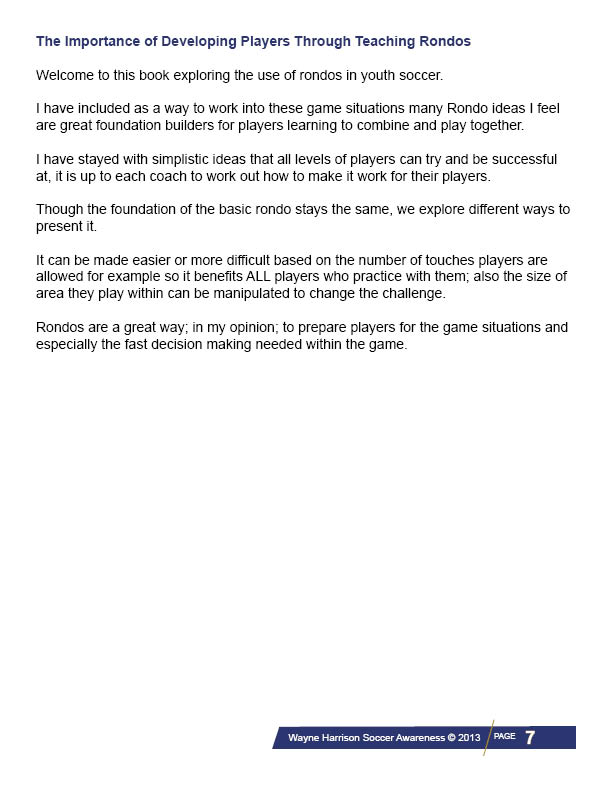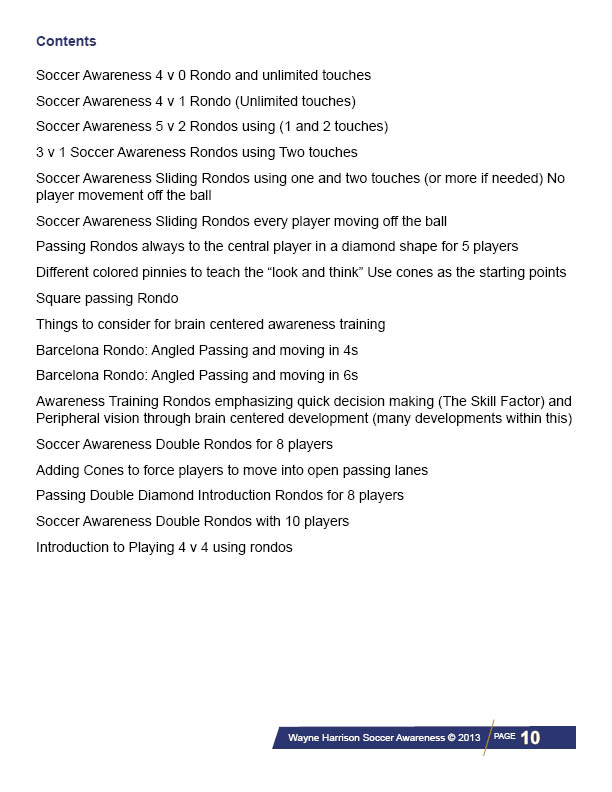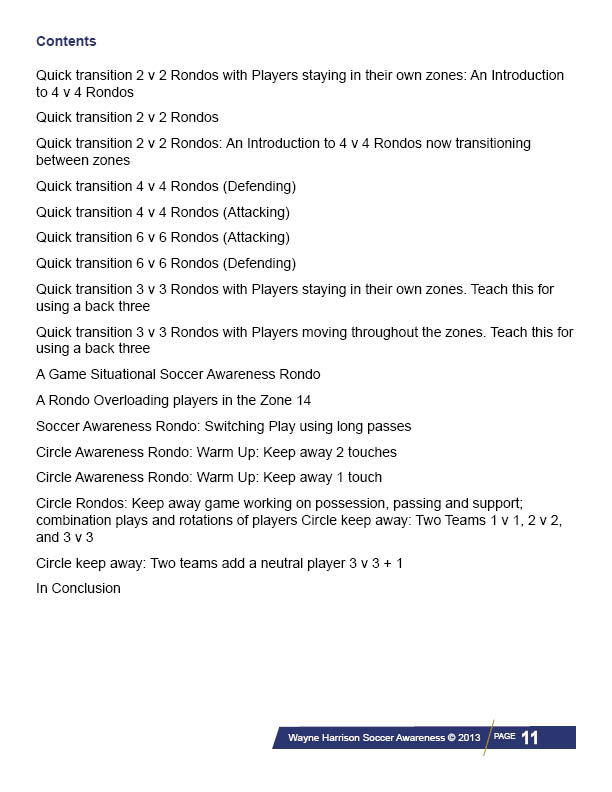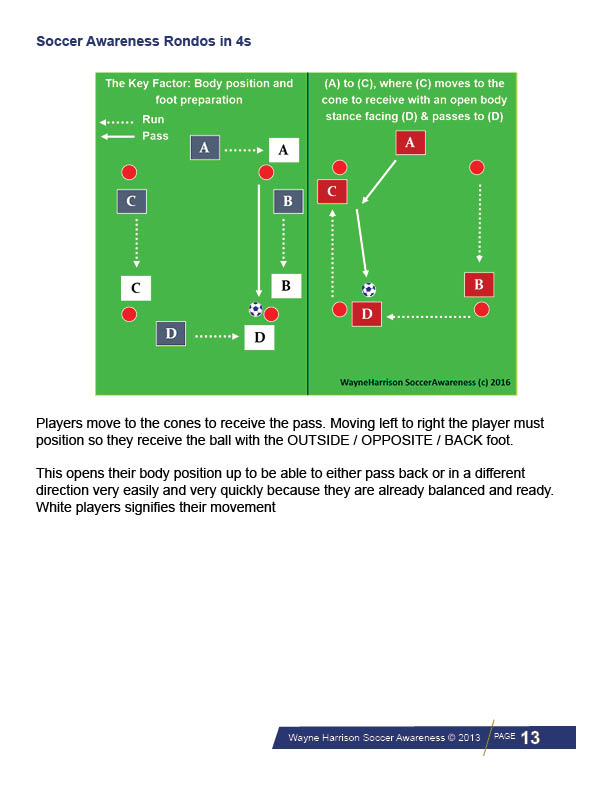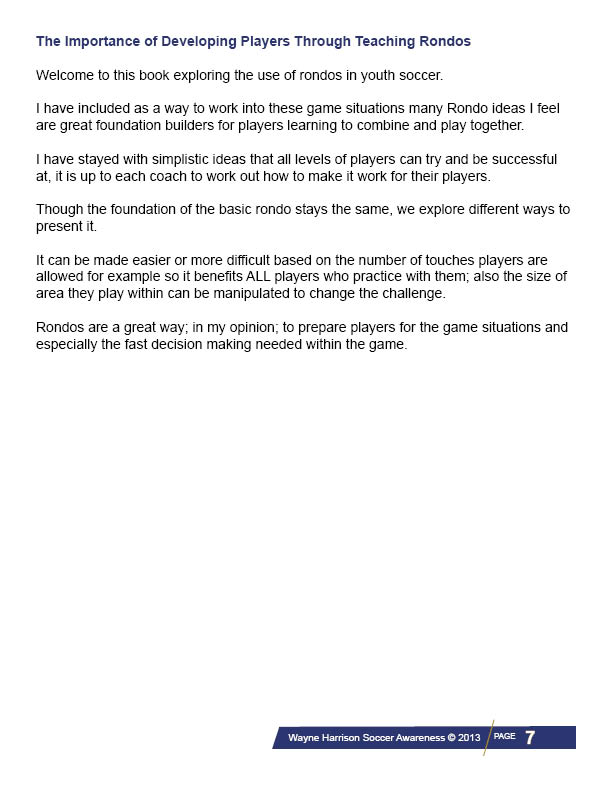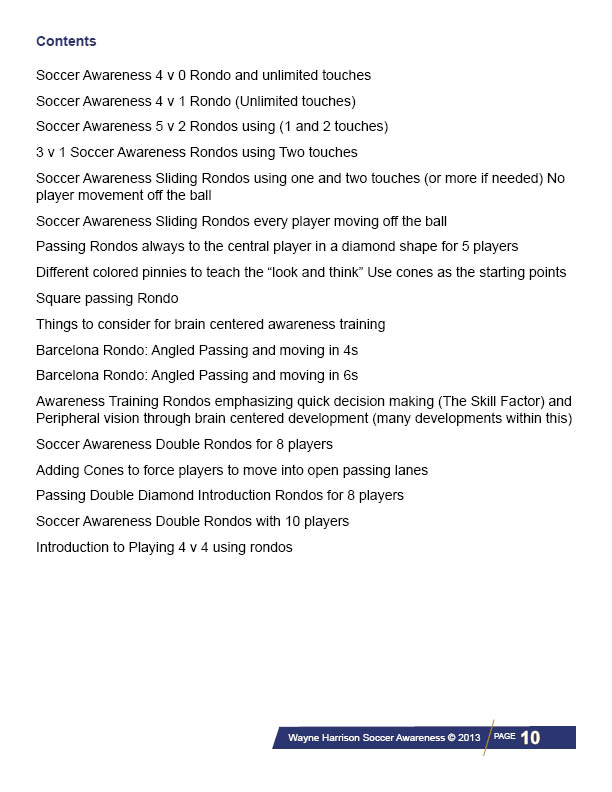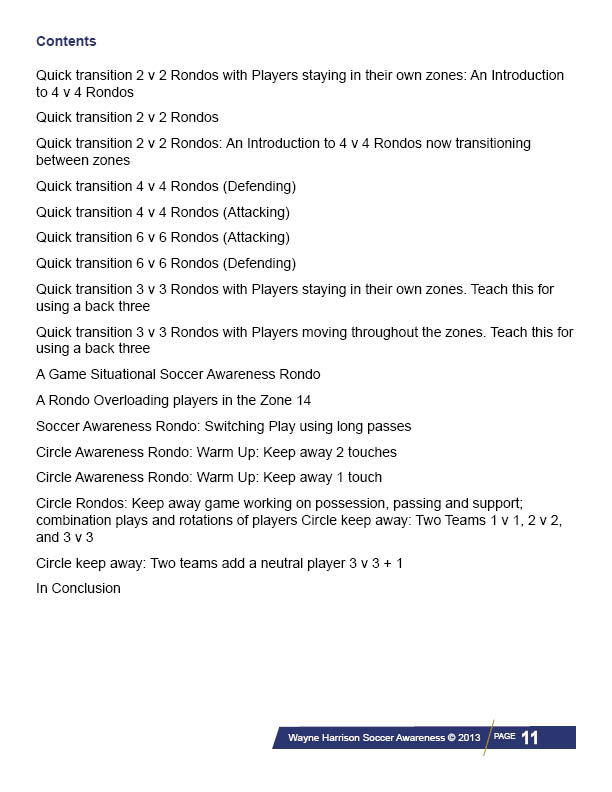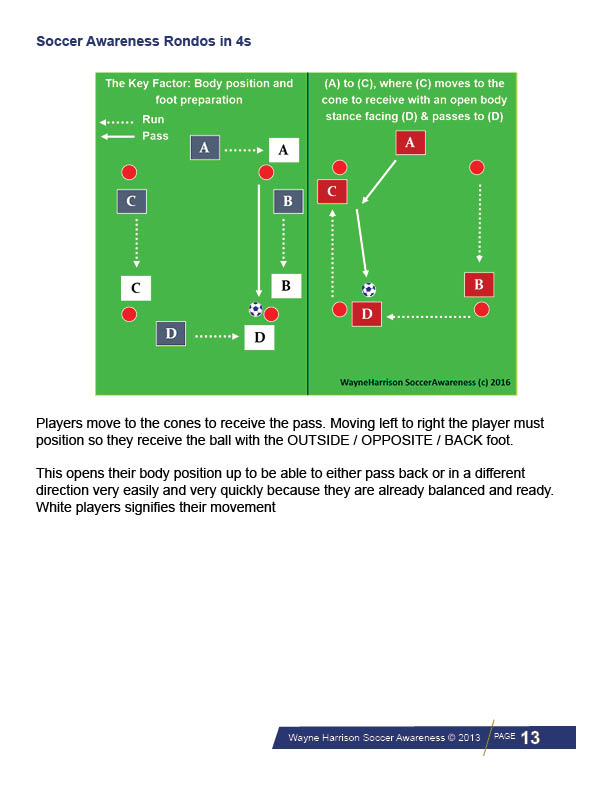 Developing Players with Rondos Using the Soccer Awareness Philosophy
This 222 page eBook from Wayne Harrison, founder of Soccer Awareness, explores the use of rondos in youth soccer. He has included as a way to work into these game situations many Rondo ideas that are great foundation builders for players learning to combine and play together. The book stays with simplistic ideas that all levels of players can try and be successful at. It is up to each coach to work out how to make it work for their players.
Though the foundation of the basic rondo stays the same; we explore different ways to present it. It can be made easier or more difficult based on the number of touches players are allowed, for example, so it benefits ALL players who practice with them; also the size of area they play within can be manipulated to change the challenge. Rondos are a great way to prepare players for the game situations and especially the fast decision making needed within the game.
Rondos Using the Soccer Awareness Philosophy of Player Development
Pep Guardiola quoted this about rondos at Barcelona: "What I learnt here is everything starts with the ball and ends with the ball. Sometimes we forget that it's a game of 11 v 11 with ONE BALL. We try to keep this ball, we try to play with this ball, we try to make everything with the ball. This is what we learn when we start as children there."
What is Soccer Awareness?
"The ultimate goal in coaching is helping each player develop his or her talents and abilities to the fullest. With this in mind, I created this Unique Soccer Awareness philosophy of developmental coaching and training. It simply means training the mind before the body." - Wayne Harrison
We will show the link between Soccer Awareness and what rondos teach in this book.
The link between our Soccer Awareness Continuums of Development Model and using Rondos to highlight the skills taught in them
The following is a guide as to what goes on in a players head, before, during and after receiving the ball. All these thoughts processes translate into physical actions on the field. Many decisions are made before the player even gets the ball, this is the essence of Soccer Awareness teaching and shown in the Continuums model.
When you assess what Rondos teach you will see this continuum highlights the very same actions learnt. Rondos are ideal training for this "thinking process" because everything has to be done at pace with little time to think and assess so players are forced to make very quick decisions which in turn forces them to think AHEAD of the ball before they receive it.
Soccer Awareness training and Rondos go hand in hand in their education of players.
Contents
Soccer Awareness 4 v 0 Rondo and unlimited touches
Soccer Awareness 4 v 1 Rondo (Unlimited touches)
Soccer Awareness 5 v 2 Rondos using (1 and 2 touches)
3 v 1 Soccer Awareness Rondos using Two touches
Soccer Awareness Sliding Rondos using one and two touches (or more if needed) No player movement off the ball
Soccer Awareness Sliding Rondos every player moving off the ball
Passing Rondos always to the central player in a diamond shape for 5 players
Different colored pinnies to teach the "look and think" Use cones as the starting points
Square passing Rondo
Things to consider for brain centered awareness training
Barcelona Rondo: Angled Passing and moving in 4s
Barcelona Rondo: Angled Passing and moving in 6s
Awareness Training Rondos emphasizing quick decision making (The Skill Factor) and Peripheral vision through brain centered development (many developments within this)
Soccer Awareness Double Rondos for 8 players
Adding Cones to force players to move into open passing lanes
Passing Double Diamond Introduction Rondos for 8 players
Soccer Awareness Double Rondos with 10 players
Introduction to Playing 4 v 4 using rondos
Quick transition 2 v 2 Rondos with Players staying in their own zones: An Introduction to 4 v 4 Rondos
Quick transition 2 v 2 Rondos
Quick transition 2 v 2 Rondos: An Introduction to 4 v 4 Rondos now transitioning between zones
Quick transition 4 v 4 Rondos (Defending)
Quick transition 4 v 4 Rondos (Attacking)
Quick transition 6 v 6 Rondos (Attacking)
Quick transition 6 v 6 Rondos (Defending)
Quick transition 3 v 3 Rondos with Players staying in their own zones. Teach this for using a back three
Quick transition 3 v 3 Rondos with Players moving throughout the zones. Teach this for using a back three
A Game Situational Soccer Awareness Rondo
A Rondo Overloading players in the Zone 14
Soccer Awareness Rondo: Switching Play using long passes
Circle Awareness Rondo: Warm Up: Keep away 2 touches
Circle Awareness Rondo: Warm Up: Keep away 1 touch
Circle Rondos: Keep away game working on possession, passing and support; combination plays and rotations of players Circle keep away: Two Teams 1 v 1, 2 v 2, and 3 v 3
Circle keep away: Two teams add a neutral player 3 v 3 + 1
In Conclusion